Oh, she pokes her head up once in awhile. Thankfully, that is all.
She was so unsure, insecure and afraid.
The person she is now is more than that.
__________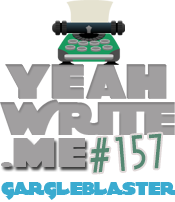 There is a new challenge going on at
Yeah Write
called the Gargleblaster in which you respond to a question in only 42 words. This was my response to
"Do you see her much?"
.