I think I'm really going to need that top to bottom
housecleaning
I said I wanted.
Because I have decided that this summer, I'm totally half-assing it.
I mean seriously, with the kids home 24/7, the house
doesn't stay clean
for more than five minutes anyway.
And that may be a generous estimate.
There's a well-known quote that goes....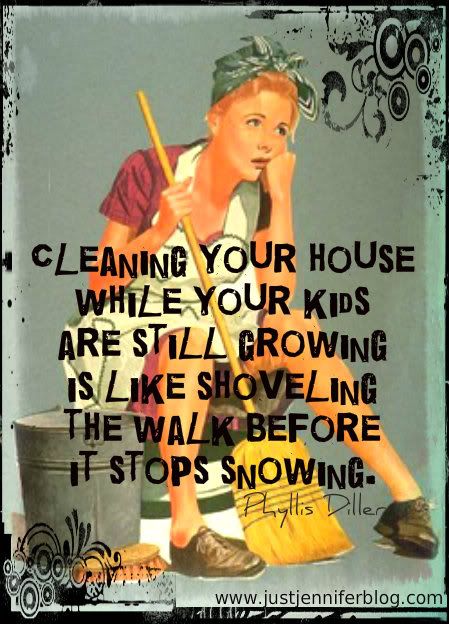 I mean, I'm not planning to live in filth. I'm just saying, why take on any uphill battle that I don't have to?
There are things I cannot take a vacation from. Stressing about housework IS something I think I can take a break from.
I will keep up with the basics and the kids don't get off scot-free.
I know! I'll do housework when Mark is at work. That's fair, right?
So if you come over and my house isn't spic 'n span, it's not that I'm a terrible homemaker. It's simply that I've decided not to care. For just the next two months*.
In July and August, while my kids are home and the sun is shining, I am NOT going to make cleaning a priority!
Instead of fretting over a clean house, I will do things like read a book, go for walks, learn to crochet a hat, ride the bus somewhere and maybe take a few naps.
I will invite my friends and their kids over for play dates and I will go to their houses to cool off in their pool or have a glass of wine.
We will take mini road trips with my dad, getting to know our surroundings better.
We will go to the freaking beach because if we don't, my son might kill me in my sleep! (Yes, there are beaches in Washington. I've heard. Somewhere. Dad?)
We will garden and grill. We will make smoothies and eat our weight in watermelon and corn on the cob. I will take lots of pictures.
I am going to enjoy this summer.
Because after having two hellacious crises in two years, I, and we, deserve it.
UPDATE: I have decided on a hashtag for this little endeavor. It is #SummerSlackers! So who's with me??

*I honestly don't know if I'll mentally be able to do this.