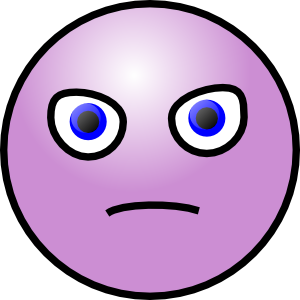 Things that make me angry include:
Mother Nature jerking us around - all I want is 2 little months of sun. Why is that so much to ask?

Whiny children - why can't you just speak in a normal voice?

Spills - the child spills something, but it's mom who has to clean it up.

Pimples - especially at 38 years old. This is making me angrier and angrier. I mean, my face is behaving better

lately

, but who knows when it will freak out again, and don't even get me started on body acne!

Completely inconsiderate people who won't give their seat to a pregnant woman.
Parents who stubbornly refuse to leave a public place with their screaming child.
When my children won't acknowledge that I've just spoken to them.
Lying (except for little white lies; that's usually just being nice)
When things don't work the way they're supposed to.
Entertainers who completely mess up their lives and waste their talents.
When a TV show I love is canceled without a decent ending.
Looking forward to eating something only to discover that someone else got to it first.
The phrase "I can't".
Anything negative (intolerance, war) in the name of God.
When a restaurant takes my favorite dish off their menu.
People who complain all the time.
Those who think they're better.
Inspired by
Mama Kat's Writer's Workshop
.
Edited and linked up for:
Stasha, the #1 sound I hate the most is
the sound of my phone ringing in the middle of the night
when Mark is in the hospital.
What makes you angry?