The first two weeks of this month have been a blur for me. For real. I don't even know how today is the 16th. Time was already going by fast enough, and I just lost half a month!
On the other hand, today being March 16 means my birthday is in exactly 1 month. I don't love it as much as I used to (because of the whole getting older part), but I still enjoy it.
Anyway....today is...
I am
happy
to report that Mark has been home for a few days now and things are going well. Most out-of-town family has gone home, but his dad and step-mom are still here right now. One of his best friends is coming from Wyoming for a visit this weekend. We are in the oh-so-fun phase of readjusting and reorganizing Mark's health care needs. He is having some minor mobility issues because his legs are weak. He's tripped twice on two different sets of just two steps. Some hand rails are in order. The home health nurse is very nice and seems on-the-ball, and is going to help us with services such as counseling for the kids.
Why do I keep using three word phrases?
I am so humbled by all the sweet and lovely things people keep saying about and to me. So many compliments, so much encouragement. I'm still trying to wrap my head around all that has transpired over the past two weeks. While I'm doing so, people are giving me such latitude, patience and understanding.
There really are wonderfully, kind-hearted and selfless people in the world. I've seen it. I only hope I can be the same way when someone else needs it.
So! I have been enjoying keeping lists each month of my favorite posts by other bloggers. I have a list for February and had intended to publish it at the beginning of this month to link up with Best of the Blogosphere at Cookie's Chronicles. For obvious reasons, that didn't happen, so I just want to share the list with you now, so it doesn't go to waste.
It's a Sarcasm Goddess sandwich!
I hope you might
happily
click on a few of those posts and read 'em. They either made me laugh, cry, nod my head or go Hmmm....
I'm a little giddy about something.
Should I tell you?
If I say it out loud here on my blog I have to mean it and do it, hu?
OK. I got the idea the other night that I want Mark and I to renew our wedding vows!
Soon. Like, in May.
May 20, 1994 is the the anniversary of our first kiss and the beginning of our relationship.
Considering what I just said, the following may be a little inappropriate....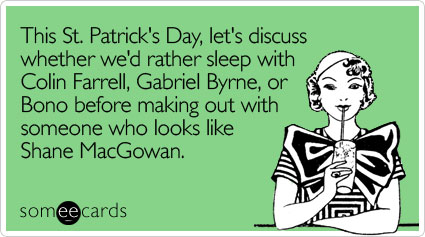 Ladies?
Write some HAPPY, grab the button, link up!
(Linky open all weekend.)