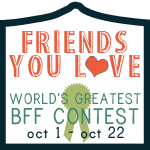 Today I will enter a friendship contest on behalf of both my BFF and my Bestie.
Wait. What's that you say? Aren't BFFs and Besties the same thing?
Well, I suppose to the average girl they are, but not to me. Allow me to explain.
I have a BFF (Best Friend Forever)
AND
a Bestie. This is because I love these two women equally and cannot pick just one of them to call my "best friend". One I have known longer than the other so I give her the title of BFF just for that reason. I call the other my Bestie because she has
become
just as close to me as my BFF over the last 8 years.
"Yes'm, old friends is always best, 'less you can catch a new one that's fit to make an old one out of."
My BFF is another Jennifer. In high school we would introduce ourselves as Jen...nifer, pointing from her to me as we said it. Today I fondly and lovingly refer to her as J.Ho.
(That's a play on J.Lo, in case you didn't make that connection.)
She's wearing a Christmas shirt that says "Ho Ho Ho".
She added the J. I love it!
I met J.Ho in 7th grade waaaayyy back in 1986. But we were just acquantances in the same PE class back then. Our relationship really took off when we got to high school. Each year we had a few classes together and because we both had H last names and lockers were assigned alphabetically, we had lockers close by each other. Between each class we'd pass notes, J.Ho's with the funniest little cartoons at the bottom.
When J.Ho got her driver's license and bought a sweet '56 Chevy truck, she wouild pick me up for school and we'd leave campus for lunch. She'd let a bunch of other kids pile in the back of the truck and it was so fun!
We would rock out to the B52s' "Love Shack", INXS' "Suicide Blonde", Madonna's "Vogue" and Deee-Lite's "Groove is in the Heart". I would sing my lungs out to Deee-Lite in J.Ho's truck! She probably wanted to laugh at me so bad, but she never did.
We went through several boyfriends. She helped get me through a dumb mistake I made. She got me drunk for the first time. Then this really stupid thing happened. We had a fight over my boyfriend that resulted in us not hanging out for almost all of our senior year. Even after the stupid boyfriend dumped me, I had too much pride to apologize to her. And by the time we did get back on track, we graduated and she bolted from Tahoe so fast, all I could do was wave goodbye.
But!
Because she's so totally awesome, she made it a point to keep in touch with me. And thus began the beginning of the best long-distance relationship
EVER
. Seriously, there are no two closer friends who don't live anywhere near each other, than me and my J.Ho. We have been each other's Maids of Honor, she hosted my first baby shower, I planned and co-hosted her bridal shower and we are Godmothers to each other's kids.
J.Ho holding my baby AJ at his Baptism.
We email almost daily, use Facebook and text. We are both really good about mailing the other photos. J.Ho is an awesome gift-giver, never once ever missing either of my kids' birthdays or Christmas. She is thoughtful, generous, supportive, talented and so funny! She is like family.
"There is magic in long-distance friendships. They let you relate to other human beings in a way that goes beyond being physically together and is often more profound."
My Bestie is Jessica. We met in the Fall of 2003 through our local MOMS Club. It was Recipe Club day with an apple theme. Jess brought an apple cake. She was pregnant with her 2nd child with the sweetest little 3 year old boy in tow. We continued to see each other at day outings including one where we took our little kids bowling. Her belly was so big, my husband helped her son with his bowling ball. I couldn't believe Jess even showed up that day!
A few months later I had a little extra spending money and wanted to go shopping. I can't drive, so I sent out an email to the new friends I had met, asking if anyone would like to
take
go with me. Jessica raised her hand and we had a great day at the mall.
After that we started talking on the phone a lot, finding oodles of things we had in common. Even the stuff we didn't have in common was cool. I mean, we spent
HOURS
on the phone, chatting the day away while we did housework and took care of our kids. We could talk - yell at kids - talk - start a load of laundry - talk - get snacks - talk. It was really quite a productive relationship.
Along with another really good friend of ours, Carin, me and Jess both have millennium babies and this has been something that has bonded us. Jessica's, Carin's and my oldest kids went to preschool together. We have tried each of the last 8 years to get at least 1 photo of the 3 of the kids together, almost without fail. The 3 of them are good friends too.
Left to right: Jessica's son, my daughter, Carin's son
July 2010
Left to right: Jessica, me, Carin
July 2010
Jessica has been there for me in some huge ways, most recently last year when my husband Mark had his heart bypass surgery. She went above and beyond for me and my family and if she hadn't before that, she cemented a place in my heart forever.
Jess sewed this "badass" cover for Mark's heart pillow.
I can't count how many GNOs Jess and I have had together, how many movies, Mexican dinners, kids' birthday parties or conversations. She is a truly consistent friend. She is kind, giving,
talented
, funny and she helps me be a better mom. And just like J.Ho, Jess is like family to me.
Love is like the wild-rose briar;
Friendship is like the holly-tree.
The holly is dark when the rose briar blooms,
But which will bloom most constantly?
~ Emily Brontë
Jessica is the one who encouraged me to start a blog.
She has one too
.
And then I encouraged J.Ho to start a
foodie blog
. I believe in paying it forward!
When something is going on in my life, I need both of them to know. When I was spending my days in the hospital with Mark last year, J.Ho cried on the phone with me and Jessica held my hand. Literally, at the same time. I am so blessed to have these two wonderful women in my life, to be able to call them my friends.
I've had other best friends in my life....Tressa, Shelley, Heather, Lisa, Brandie...and I've loved them all. But I think the older I get the more I refine the definition of what a best friend is to me.
"People come into your life for a reason, a season, or a lifetime."
I could really go on and on, but this is already so long! Suffice it to say that my BFF and my Bestie are amazing and I love them.