Welcome to....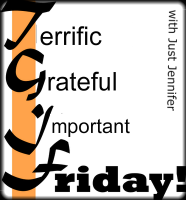 Go
HERE
to read all about how this came to be. Basically, it's about ending your week on a positive note!
To participate
1. Write a post about something good that happened this week (or if you don't blog, tell me by leaving a comment). It can be anything!
2. Grab the #TGIF button and include it somewhere in your post.
3. Come back here and link up. Linky is open all weekend (even if I publish a new post).
4. Visit some of the other linkers, leave comments and consider giving them a follow.
5. Share posts on Twitter, Facebook, StumbleUpon, etc, if you are so inclined!
**Ch-ch-ch-changes!**
I have decided to open TGIF up to guest posting. If you want, instead of just linking your post to mine, you can be
THE
poster here. Just let me know by sometime Wednesday of the week that you want to do it, and I will happily step aside and let you take the floor! Be warned, if no one volunteers, I might put you on the spot and you will feel obligated to do it because you love me!
* * * * *
I have titled this week's post "Making Progress" because after 2 years of knitting, I have finally also picked up a crochet hook. Thanks to @MyBelovedAdoria for the lesson. I wouldn't say I'm a natural, but I know how, am practicing and I'm proud of myself!
Not only that, but things are (so far) going better with Camryn and her math work.
Also, Mark found out this week that the schedular at his job had way too many restrictions on his available hours, which is why he's not been getting as many hours as he could. Due to dialysis schedule changes over the past couple of years, Depot wasn't keeping up with when Mark could and couldn't work. So he got that all cleared up
Speaking of Mark, here is what made
him
happy this week:
I have no idea if this is cool with Starbucks.
The shooting range Mark goes to has this on stickers, t-shirts and sweatshirts.
And then there's this cool new thing I'm doing.
My very first post went up yesterday. You can go see it
HERE
!
Yay!
Here's a little something funny for you:
saw this on facebook
So how was your week? What GOOD things occurred?
Link up and make me smile!