Welcome to....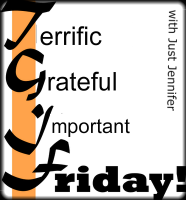 Go
HERE
to read all about how this came to be. Basically, it's about ending your week on a positive note!
To participate
1. Write a post about something good that happened this week (or if you don't blog, tell me by leaving a comment). It can be anything. Just keep it positive!
2. Grab the #TGIF button and include it somewhere in your post.
3. Come back here and link up. Linky is open all weekend (even if I publish a new post).
4. Visit other linkers, leave comments and consider giving them a follow.
5. Share posts on Twitter, Facebook, StumbleUpon, etc, if you are so inclined!
And
6. TGIF is now open to guest posting (as you can see this week)! If you want, instead of just linking your post to mine, you can be THE poster here. Just let me know by Thursday of the week that you want to do it, and I will happily step aside and let you take the floor! Be warned, if no one volunteers, I might put you on the spot and you will feel obligated to do it because you love me (just like Jenn here)!
* * * * *
I am very excited to have Jenn from Fox in the City here as my first TGIF guest. She has been linking up with me since the beginning, and even though she spells her name wrong (there's even a squiggly red line underneath it), I consider her to be one of my best bloggy friends. She is super supportive, always happy to pitch in a retweet, and a sincere commenter. I love her blogging style because she is real and authentic. So real in fact, that she just shared her weight with the world! So without further adieu....
* * * * *
TGIF – The Playing Edition
So my dear Jen, with one "n", asked if I would be interested in writing a guest post for the week's edition of TGIF. By now it should be rather obvious that I gave her an affirmative "hell yes" I can do that!
Lately I have been trying to spend more time quietly observing my kids when they don't realize that I am doing just that. What I have seen has totally blown me away.
I absolutely love watching them play.
It feels like, even though we have been through a rough time with my PPD, that my kids are doing just fine.
The little guy is rather obsessed with all things trucks. He drives them up and down, around and around, making his version of a car engine sound. The past couple of weeks though, he has really started to venture away from just trucks and into a more parental role with his stuffed animals.
He will carefully sit Goofy down beside him and share his food with him. I admit that I did stop him as he was preparing to share his milk with him . . . you know milk isn't good for dogs . . . especially those of the stuffed variety.
For his birthday he got a Grover backpack. He LOVES Grover, so much so that he makes certain to share his soother with the furry blue monster, gives him hugs and kisses, covers him up when he is napping and just generally makes certain that all is well with Grover.
It is adorable.
Little Miss is completely obsessed with princesses, fairies and all things related to them. I love watching her make her dolls interact. It is amazing the adventures she takes them on. I admit that I rather loved how, when she didn't have a prince doll for their adventures, she used the tree that came with her dollhouse to be the prince. What can I say, this little solution made me so proud. I thought it was a rather brilliant way to solve the problem. Ah don't worry; she is now the proud owner of one dorky Ken doll.
So this week I am
grateful
for play. I am thankful that I have been given the opportunity to watch their imaginations form and to learn more about each of my children's hopes, dreams and desires, through their imaginations.
What about you? Have you ever just watched your kidlets play?
Did you find it as amazing as me?
~ Jenn
* * * * *
But first, leave your comments! Then go.... :-)