Welcome to....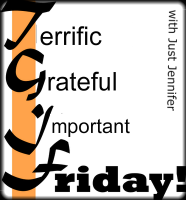 Go
HERE
to read all about how this came to be. Basically, it's about ending your week on a positive note!
To participate
1. Write a post about something good that happened this week (or if you don't blog, tell me by leaving a comment). It can be anything!
2. Grab the #TGIF button and include it somewhere in your post.
3. Come back here and link up. Linky is open through Saturday (even if I publish a new post).
4. Visit some of the other linkers, leave comments and consider giving them a follow.
5. Share posts on Twitter, Facebook, StumbleUpon, etc, if you are so inclined!
* * * * *
I have had one of those weeks in which things that make you go
Hmmm
have happened. Like, things that just made me shake my head.
So, I'm going to focus on the
funniness
of these things.
On Monday, Mark officially began the process of having all this teeth pulled and getting dentures.
No, he's not 60 years old or anything. He's 42, but not only was he born with weak tooth enamel, his myriad health problems have also contributed to quite a bit of tooth decay. We all know now that unhealthy teeth can contribute to health problems such as heart disease, soooo....you can see why this is probably the best way for him to go.
But O-M-G! It's so
funny
because he's only 42 and I'm only 37 and...
dentures
? Really?
Hahahaha
& *shaking head*!
Also on Monday, Camryn came home without any clue as to what she was supposed to do for homework. She claimed she went to the bathroom when the teacher explained it. I pointed out that she needed to then
ASK
the teacher or a fellow student what she missed.
Hello, child!
My children's lack of common sense is a continuous source of
amusement
to me. So since she was totally lame about her homework, I made her fold
AND
put away her clean clothes all by herself.
Hahahaha
& *shaking head*.
On Wednesday I completely spaced that it was early release day. Thankfully I was sitting in a quiet house (no TV or music on) and heard AJ's bus coming. I hi-tailed it outside in a t-shirt, pajama bottoms and birks.
Hahahaha
& *shaking head*.
Oh, and earlier on Wednesday, Mark was getting ready to leave for work and turned on the kitchen faucet to rinse his travel cup out noticing that we had very little water pressure. We both stood there as the water slowly...just....stopped....running.
Uh, WTF water? Why did you stop?
Mark looked at me questioningly and asked if I had paid the city utility bill.
Um...yes! I paid....half....was waiting for more money to pay the rest. Kinda thought they'd warn us if they were close to shutting it off.
Apparently not.
We went outside and, lo and behold, there was this laminated orange card sticking out from where the water meter lives.
Terrific
.
We took care of it, but it was still gonna be awhile before the water got turned back on. I thought, oh well, guess this means I don't have to run any laundry right now!
Way to be
positive
, right?
Hahahaha
& *shaking head*!
Lastly, after the #WaterBillDebacle, Home Depot decided to cut hours this week.
We obviously don't need
LESS
money.
But after the other silly mishaps of the week I can only....
Hahahaha
& *shake head*.
But people, if you have any home projects on your list, I
encourage
you to go to your local Home Depot to buy your supplies.
Please and thank you.
Something to make you laugh:
So how was your week? What GOOD things occurred?
Link up and make me smile!