Welcome to....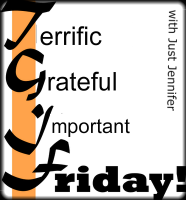 Go
HERE
to read all about how this came to be. Basically, it's about ending your week on a positive note!
To participate
1. Write a post about something good that happened this week (or if you don't blog, tell me by leaving a comment). It can be anything. Just keep it positive!
2. Grab the #TGIF button and include it somewhere in your post.
3. Come back here and link up. Linky is open all weekend (even if I publish a new post).
4. Visit other linkers, leave comments and consider giving them a follow.
5. Share posts on Twitter, Facebook, StumbleUpon, etc, if you are so inclined!
6. TGIF is now open to guest posting! If you want, instead of just linking your post to mine, you can be THE poster here. Just let me know by Thursday of the week that you want to do it, and I will happily step aside and let you take the floor! Be warned, if no one volunteers, I might put you on the spot and you will feel obligated to do it because you love me!
* * * * *
Do you guys even know what/who Gumby is?
This guy

.
The reason I am calling this the "Gumby Edition" is because that's what my FIL called Mark in a voice mail he left.
Why did Mark's dad call him Gumby?
Well....because Mark has been gummin' it all week since he had all his teeth pulled on Monday.
Hahahahahaha!
Jennifer!
Oh calm down! Mark laughed too.
Are you now wondering just how old my husband is? He turns 43 on Monday.
Happy almost birthday to Mark!
So he's not all that old, but he's always had bad teeth. He was born with weak tooth enamel, and then Type 1 Diabetes didn't do him any favors. He's had plenty of dental work done over the years, but since last Fall when Mark had bypass surgery, his mother has been
nagging
asking him to do something more because she knows how tooth decay can lead to other medical issues like....heart problems.
Mark opted to get rid of all his crappy teeth and go with dentures. The cool thing is, he'll finally have nice-looking teeth. While he's happy about that, he says there will be a new kind of self-concious feeling because his teeth will
suddenly
look good.
Changes. They always have their pros and cons, don't they?
But all in all, this is a Terrific and Important thing for Mark and I'm Grateful that he will have a healthier mouth!
One less thing to worry about, right?
For something funny, I give you...
What GOOD things happened in your world this week?
Link up or comment, and make me smile!