Welcome to....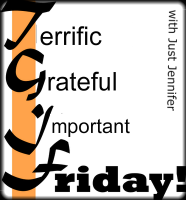 Go
HERE
to read all about how this came to be. Basically, it's about ending your week on a positive note!
To participate
1. Write a post about something good that happened this week (or if you don't blog, tell me by leaving a comment). It can be anything!
2. Grab the #TGIF button and include it somewhere in your post.
3. Come back here and link up. Linky is open through Saturday (even if I publish a new post).
4. Visit some of the other linkers, leave comments and consider giving them a follow.
5. Share posts on Twitter, Facebook, StumbleUpon, etc, if you are so inclined!
* * * * *
My week started out pretty good. Call me crazy, but I actually like Mondays because I feel like they're a fresh start, a reboot, if you will....
So, yeah...I think I'll keep this short and sweet. Suffice it to say (per the post title), we had some ups and
downs
this week. But I'm going to end it with some Gratitude!
I am grateful for...
Teachers who want to help your child succeed.
The parenting team that is me and Mark.
A good deal on yummy steaks.
TV shows that make me LOL.
My aptitude for administrative tasks.
People who turn an off-handed remark into a kind gesture

(Mark mentioned in passing to a co-worker that he needed to pick up cat food. The co-worker gave him some.)

A sale on shoes when I need to buy some.
A change in the middle school bus schedule which means Cami gets home sooner.
Finding boots to wear to a wedding tomorrow

(that I can continue to wear through the winter)

.
AJ's little neighborhood friend who helped him clean up his room.
"I feel a very unusual sensation - if it is not indigestion,
I think it must be gratitude."
So how was your week? What GOOD things occurred?
Link up and make me smile!
Linking up with The Fence, honestly, so maybe more people can know about the wonders of TGIF!