I've said it before (just the other day, in fact) and I'll say it again - this summer in the Pacific NW has been lame. As I prepare this post, it is overcast and only 66 degrees. It's August. Just try to tell me that's not a disappointment.
So when Shell at
Things I Can't Say
said her big photo link-up for August would be
Summer Fun
themed, I thought I might not be able to participate because I only have a few pictures from this summer so far. Now, if this linky were being held
AFTER
our trip to Tahoe, this would be a different story. To add insult to injury, I apparently deleted the only picture I had of the AJ playing on the slip 'n slide!
%#$&;!
Wait! ......Maybe I shared the slip 'n slide pic on Facebook....I did! Yay for Facebook!
Bowman Bay, near Deception Pass, WA
AJ sitting on my Dad's motorcycle
AJ riding HIS bike - no training wheels!
Cami sitting on her bed in the big covered wagon at camp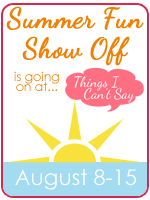 So that's about it from me! Go link up your Summer Fun photos for a chance to win prizes from
Ubisoft
!