NaBloPoMo = National Blog Posting Month
It is the blogger's answer to NaNoWriMo = National Novel Writing Month.
It's officially hosted by BlogHer, but others also put together their own little NaBlo communities.
One such place is Yeah Write.
I mention them regularly. They're pretty cool.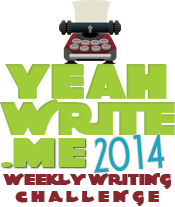 Today is my second day contributing a
post
for Yeah Write's NaBloPoMo efforts.
It is Day 25. The home stretch.
I was recently asked:
Blogging is a mystery to me. Do you do this as a profession? How does that work? Curious.
Part of my answer: