It's 11-11-11 and Veteran's Day!
Yay Veterans!
And welcome to....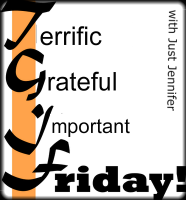 Go
HERE
to read all about how this came to be. Basically, it's about ending your week on a positive note!
To participate
1. Write a post about something good that happened this week (or if you don't blog, tell me by leaving a comment). It can be anything. Just keep it positive!
2. Grab the #TGIF button and include it somewhere in your post.
3. Come back here and link up. Linky is open all weekend (even if I publish a new post).
4. Visit other linkers, leave comments and consider giving them a follow (it would be nice if you followed me, but no pressure).
5. Share posts on Twitter, Facebook, StumbleUpon, etc, if you are so inclined!
6. TGIF is now open to guest posting! If you want, instead of just linking your post to mine, you can be THE poster here. Just let me know by Thursday of the week that you want to do it, and I will happily step aside and let you take the floor! Be warned, if no one volunteers, I might put you on the spot and you will feel obligated to do it because you love me!
* * * * *
Today I'm sharing something
Important
with you. Important to me and important in general.
The post I wrote on the 1 year anniversary of my husband's double bypass surgery, The Worst Night of My Life, was
published over at Band Back Together
yesterday.
I submitted it to BB2G because I have started sharing my (and Mark's) struggles with dealing with his Diabetes and dialysis over there. I feel they are two things I don't see a lot of people talking about. We talk so much about cancer, heart attack (obviously another thing for us, but for Mark, it all starts with Diabetes), stroke, depression, obesity, abuse and even erectile dysfunction.
And all those things matter too. It ALL matters (and it sucks that it matters).
But it seems to me that Diabetes is something everyone just accepts as some common condition that is totally manageable and easy to deal with. Well it's not. It's a serious illness that effects many aspects of life. Yes, you can manage it, and yes, you can live with it for a very long time. But it's hard. And that's something I'm not sure people understand.
So I will continue to talk about Mark's health problems both here and with The Band. Both for myself and to maybe help others.
Even if you've already read it, maybe you could check BB2G for
my post
and let me know you did.
And by the way, if there is anything you struggle with in life, The Band is a really great place to find information, put your stuff out there and get support and find kindred spirits. Because...we are none of us alone!
Also, Elena at
C.Mom
and her daughter Princepessa wrote two posts about
the morning Princepessa found her dad
sitting in bed with a low blood sugar. This is something that happens to Mark several times a year. I thought it was awesome of Elena to
share this story
, again, because I don't think Diabetes is talked about enough. So go check out her posts, and let her know I sent you!
Of course, It wouldn't be TGIF without a little something to make you
smile
....because if we didn't laugh, we would cry....
Write something, link up and make me smile!