July was my second month participating in Fat Mum Slim's PhotoADay challenge. I'm so into it. It's such an easy thing to do to bring out a little creativity in yourself.
I set up a
ShutterCal
account so I could have a visual photo calendar, as well as an easy way to share thumbnails of all my photos without having to make a collage or something.
My 10 Favorite PHOTOADAYJULY Pics
On the floor - I literally laid on my tummy on the floor
Texture - my crocheting
Building - a picnic hall on Camano Island, WA
Finger - it had to be done
Pet - my sweet kitty boy
Eyes - this is my prosthetic eye (couldn't help myself)
Mirror - me in our groovy, round entry mirror
Sunshine - it's...the sun (with cool pink thingies)
Cup - one of my favorite mugs
Last thing you bought - water squirting balls
Calm - my daughter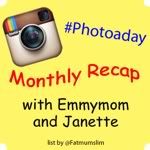 Which one is your favorite?
PS: come back tomorrow for the August Did You Know? linky! See the cool new button in my sidebar? It totally makes you want to share something interesting with me, right?