My IRL friend Jessica, who happens to also blog at
Anything But, and then Some
and
MyBelovedAdoria
made a suggestion after my
Very First Eff Off Friday
. She wondered if we might want to balance out our karma with a "Say Something Nice Saturday". Or, possibly just have the choice of saying Eff Off to something OR saying something nice about something.
This seems like a perfectly swell idea to me! The last thing I wanna do is piss off God and the universe with a bad attitude. I mean really, who needs that?
Today I think I will give this a shot by mentioning some of my favorite blogs and bloggers.
First, I want to introduce you to my new blogger recruit, my BFF J.Ho. She is a busy working mom of 2 who has been planning out their dinners EVERY NIGHT for 3 years now. She has this little following of friends whom she has been emailing her menus to each week. We made a deal with each other that if I gave digital scrapbooking a try, she'd turn her meal plans into a blog. Well I did, and she did!
Introducing
Mom Rocks Mealtime
by Jen!
Now, if you or anyone you know is getting married or has some other special event coming up that you would want flowers for, you should really consider Jessica's custom handmade origami flowers at
MyBelovedAdoria
. She does WONDERFUL things with 3x3 squares of paper! And I'm not just saying that because she's a friend of mine. Go see for yourself!
You all should already know that I stalk
The Sarcasm Goddess
at
For the Love of Writing,
so I don't even need to mention her, right?
Another favorite writer is
Kris
at
Pretty All True.
She is observant and funny, and she has these 2 precocious daughters. Oh, and she's really good at personifying her dogs.
There is this sweet gal who lives in New Jersey,
Kimberly
at
Mama's Monologues.
I like how she expresses her feelings....and is an up and coming
rapper
, yo.
My favorite Memes are hosted by
Shell
at
Things I Can't Say.
Shell is a super supportive fellow blogger and I wanna be just like her when I grow up. I also really appreciate the things she writes about.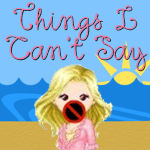 The co-host of another Meme I enjoy is
Rach
at
Life with Baby Donut
. She is another supportive blogger and just all around nice person.
I could go on and on (there are many blogs I am enjoying), but I really gotta go now cuz it's Jessica's son's birthday party day! He's 11 like Camryn. Actually Jess, me and our friend Carin all have 11 year old middle schoolers now. Our kids have known each other since they were 3. I really love that!
You all have a great Labor Day Weekend, and if you get the chance, go check out the blogs I've mentioned here today, OK? If you don't, I'll have to sick SG on you!